Kerschensteiner Lab – Neuroimmune Interactions
In multiple sclerosis immune cells infiltrate brain and spinal cord where they damage neurons and glial cells. This structural damage to the nervous system is responsible for the irreversible functional deficits that patients acquire over time. In our work we try to understand how immune cells damage the nervous, how reciprocal interactions between immune and nervous system control the formation and resolution of such inflammtory reactions and how we can best leverage this knowledge to design therapeutic approaches that prevent or limit tissue damage in multiple sclerosis.
We develop in vivo imaging techniques to visualize in real time the cellular and molecular interactions that underlie tissue damage in multiple sclerosis models, employ CRISPR-based gene editing to resolve the signaling pathways that govern this interactions and use genetic and pharmacological manipulations to evaluate new therapeutic strategies that foster tissue protection and repair.
The following aspects are of particular interest to our lab:
In vivo pathogenesis of immune mediated axon damage
We want to understand how immune cells damage axons in neuroinflammatory lesions. We have identified Focal Axonal Degeneration as a cellular mechanism of immune-mediated axon degeneration in both experimental and human neuroinflammatory lesions. As the early stages of this process are reversible we are now trying to unravel which cellular processes and molecular signals drive axons towards fragmentation or allow them to recover.
Project-related publications
Witte ME, Schumacher AM, Mahler CF, Bewersdorf JP, Lehmitz J, Scheiter A, Sánchez P, Williams PR, Griesbeck O, Naumann R, Misgeld T, Kerschensteiner M. Calcium Influx through Plasma-Membrane Nanoruptures Drives Axon Degeneration in a Model of Multiple Sclerosis. Neuron 2019 Feb 20;101(4):615-624
Sorbara CD, Wagner NE, Ladwig A, Nikić I, Merkler D, Kleele T, Marinković P, Naumann R, Godinho L, Bareyre FM, Bishop D, Misgeld T, Kerschensteiner M. Pervasive axonal transport deficits in multiple sclerosis models. Neuron 2014 Dec 17;84(6):1183-90.
Nikić I, Merkler D, Sorbara C, Brinkoetter M, Kreutzfeldt M, Bareyre FM, Brück W, Bishop D, Misgeld T, Kerschensteiner M. A reversible form of axon damage in experimental autoimmune encephalomyelitis and multiple sclerosis. Nat Med. 2011 Apr;17(4):495-9.
Mechanisms of oligodendrocyte damage and recovery
We are interested in resolving where and how oligodendrocytes are attacked by immune cells. Our work shows that damage often follows an outside-in pattern resulting in amputated oligodendrocytes. We now want to understand the fate of these cells during the formation and recovery of demyelinating lesions.
Project-related publications
Snaidero N, Schifferer M, Mezydlo A, Zalc B, Kerschensteiner M, Misgeld T. Myelin replacement triggered by single-cell demyelination in mouse cortex. Nat Commun. 2020 Sep 29;11(1):4901.
Romanelli E, Merkler D, Mezydlo A, Weil MT, Weber MS, Nikić I, Potz S, Meinl E, Matznick FE, Kreutzfeldt M, Ghanem A, Conzelmann KK, Metz I, Brück W, Routh M, Simons M, Bishop D, Misgeld T, Kerschensteiner M. Myelinosome formation represents an early stage of oligodendrocyte damage in multiple sclerosis and its animal model. Nat Commun. 2016 Nov 16;7:13275.
Regulation of phagocyte responses in neuroinflammatory lesions
Mononuclear phagocytes such as macrophages and microglial cells can contribute both to the formation and resolution of neuroinflammatory lesions. They do so because they shift their molecular characteristics and functional properties as lesions evolve. Here we want to dissect the immune cell- and nervous system-derived signaling streams that govern phagocyte phenotypes in the inflamed CNS.
Project-related publications
Jordão MJC, Sankowski R, Brendecke SM, Sagar, Locatelli G, Tai YH, Tay TL, Schramm E, Armbruster S, Hagemeyer N, Groß O, Mai D, Çiçek Ö, Falk T, Kerschensteiner M, Grün D, Prinz M. Single-cell profiling identifies myeloid cell subsets with distinct fates during neuroinflammation. Science 2019 Jan 25;363(6425):eaat7554
Locatelli G, Theodorou D, Kendirli A, Jordão MJC, Staszewski O, Phulphagar K, Cantuti-Castelvetri L, Dagkalis A, Bessis A, Simons M, Meissner F, Prinz M, Kerschensteiner M. Mononuclear phagocytes locally specify and adapt their phenotype in a multiple sclerosis model. Nat Neurosci. 2018 Sep;21(9):1196-1208.
Goldmann T, Wieghofer P, Jordão MJ, Prutek F, Hagemeyer N, Frenzel K, Amann L, Staszewski O, Kierdorf K, Krueger M, Locatelli G, Hochgerner H, Zeiser R, Epelman S, Geissmann F, Priller J, Rossi FM, Bechmann I, Kerschensteiner M, Linnarsson S, Jung S, Prinz M. Origin, fate and dynamics of macrophages at central nervous system interfaces. Nat Immunol. 2016 Jul;17(7):797-805.
Models, markers and manipulation of inflammatory gray matter pathology
While white matter lesions dominate the early stages of multiple sclerosis, the gray matter takes center stage as the disease advances. We thus try to better characterize gray matter pathology in multiple sclerosis patients, develop models that allow us to address distinct aspects of gray matter pathology and thereby aim to resolve pathological targets, biological markers and emerging therapies for MS progression.
Project-related publications
Jafari M, Schumacher A-M, Snaidero N, Neziraj T, Ullrich Gavilianes EM, Jürgens T, Florez Weidinger JD, Schmidt SS, Beltran E, Hagan N, Woodworth L, Ofengeim D, Gans J, Wolf F, Kreutzfeldt M, Portugues R, Merkler D, Misgeld T, Kerschensteiner M. Localized calcium accumulations prime synapses for phagocyte removal in cortical neuroinflammation. Nat Neurosci. 2021 Mar;24(3):355-367.
Jürgens T, Jafari M, Kreutzfeldt M, Bahn E, Brück W, Kerschensteiner M, Merkler D. Reconstruction of single cortical projection neurons reveals primary spine loss in multiple sclerosis. Brain 2016 Jan;139(Pt 1):39-46.
Martin Kerschensteiner, Principal Investigator
Read more about the PI on the next tab.
Daniela Beckmann, PhD student
I studied Molecular Medicine at Ulm University in a Bachelor- and consecutive Master programme. During this time, I became particularly interested in both neuroscience and immunology, which is why I happily ended up as a PhD student in Neuroimmunology and joined the Kerschensteiner Lab in October 2019. I study the calcium-mediated process of axon degeneration in inflammatory lesions, using transgenic and in vivo imaging techniques. To pursue this PhD project, I was awarded a scholarship by the "Studienstiftung des deutschen Volkes" (German Academic Scholarship Foundation). Whenever I am not in the lab, you will find me playing clarinet in a symphonic wind orchestra or reading a good book.
Clara de la Rosa del Val, PhD student
I studied Biochemistry at the Autonomous University of Madrid, in Spain, doing a one-year exchange at the University of Toronto, Canada. I really liked the international experience, so for my master I decided to move abroad to Munich. I studied a MSc of Neuroscience with the Graduate School of Systemic Neurosciences (GSN) at the Ludwig-Maximilians Universität. During my master studies, I already joined the Kerschensteiner Lab, first for a research internship and later for the Master Thesis. Now I'm continuing with the PhD, also as part of the GSN. I work on the functional regulation of phagocytes and T cells in neuroinflammation, using the CRISPR/Cas9 technology in CRISPR screens. In my free time, I like to read, paint, hike and go to the Alps (hands down one of the best things about Munich), read some more and have fun with friends.
Dr. Daniel Engels, MD Phd student
Medical school in Munich, clinical training in the North and South of Germany as well as in the USA.
Doctorate at the Children's Hospital about protein mistrafficking in mitochondrial inborn errors of metabolism. Now applying 'omics' and computational techniques to better understand the molecular mechanisms of neuroinflammation.
Bernadette Fiedler, technician
I have been in Martin`s lab for more than 10 years by now and as a technician I am responsible for genotyping, ordering and managing the lab. As the mum of 2 soccer crazy boys I am trying to coordinate their game schedules with the experiments in the lab.
Arek Kendirli, PhD student
I studied Biology at Middle East Technical University (METU). During my bachelor's, I worked in Kocer's lab at the University of Groningen and Lemaitre's lab at École polytechnique fédérale de Lausanne (EPFL). Then I moved to Germany for my master's degree in cancer biology at the German Cancer Research Center (DKFZ) the University of Heidelberg. During my master's, I worked in Lander's lab at Broad Institute of MIT and Harvard and in Boutros' lab at DKFZ. For my Ph.D., I joined the Kerschensteiner's lab to apply loss-of-function CRISPR screens in immune cells in the concept of multiple sclerosis. I would say the most efficient sgRNA is the one that hasn't been designed yet. Outside the lab, playing football and playing cajón are my favorite activities.
Lea Merkel, MD student
Always having a strong interest in health and science, I pursued medical studies in Munich in 2017. My fascination for neuroscience and high-value research made me join the lab of Prof. Dr. Martin Kerschensteiner for my MD thesis in October 2020. Questions we address include how the central nervous system communicates with macrophages during the induction and progression of Multiple Sclerosis and vice versa. My work is therefore aimimg to investigate the effects of certain neurotransmitters on macrophages in the EAE model. I enjoy a constant challenge and am very passionate about sports and travelling. "
Dr. Aleksandra Mezydlo, Postdoctoral fellow
After my master studies in Warsaw and Vienna, I joined the team of Martin Kerschensteiner at the end of 2015, where, after being able to perform in vivo microscopy with my eyes shut, I happily obtained my PhD title mid. 2020. My main research project is focused on remyelination and recovery capabilities of oligodendrocytes in the course of Multiple Sclerosis. As a member of the Bioimaging Hub in CRC/SFB274, I am always glad to discuss possible experimental strategies for confocal and two-photon microscopy. I am a yoga and road bike lover to keep the personal yin-yang balance :)
Dr. Paula Sanchez, Postdoctoral fellow
Originally coming from Chile where I studied biochemistry, I did my PhD in Neuroscience in Göttingen as a member of 2 research groups working in close collaboration. During this time, the focus of my research was to study the involvement of cytoskeletal regulators in myelin sheath formation and axonal wrapping during mouse CNS development. It was a privilege to be able to implement an interdisciplinary approach involving in vitro cell-based and biophysical techniques combined with in vivo techniques using transgenic animals. For my Postdoc, I joined the Kerschensteiner group to study the mechanism of plasma membrane disruption during axon degeneration in EAE, a mouse model for multiple sclerosis. I enjoy dancing, hiking and spend most of my "free" time with my family and playing tabletop games with friends.​
Ryan Shepherd, Master student
I am an undergraduate student from the University of Glasgow on a 10 month placement at the Kerschensteiner lab, working towards an Integrated Masters in Neuroscience. I hope to gain a better idea of what it's actually like to do research, and build on my technical skills in the lab.
Dr. Adrian-Minh Schumacher, Clinician Scientist
Intrigued by the method of in vivo microscopy and the exciting pathophysiology of multiple sclerosis, I joined the lab during my time in medical school to study the involvement of extracellular calcium during the process of inflammatory axon degeneration. Seeing the possibilities for actual bench-to-bedside translation, I decided to become a clinician-scientist which indeed means going back and forth between two worlds connected by small but growing bridge. After having studied inflammatory synapse loss in a cortical MS model, I now focus more on biomarkers - as evidence about disease activity from body liquid assays, imaging metrics and data from patient devices will likely guide us physicians way more when making patient-individual decisions in future MS treatment. Apart from this, I enjoy looking for things that pop up in the digital realm and am quite geeky when it comes to chamber music.
Emily Melisa Ullrich Gavilanes, PhD student
Born and raised in Quito, Ecuador, I moved to Germany for my bachelor's degree in Biochemistry and Cell Biology at Jacobs University Bremen. I then obtained a Master in Cellular and Molecular Neuroscience at Karl Eberhardt Universität Tübingen before moving to Munich to work on my PhD in the Kerschensteiner lab in November 2018. My project focuses on the mechanisms that lead to grey matter spine and neuron loss in a model of cortical multiple sclerosis. Outside of the lab I enjoy spending my time doing sports like skiing, tennis, swimming or I enjoy nice days with walks around the city parks and lakes.
Dr. Yi-Heng Tai, Postdoctoral fellow
After my master's training in brain science in Taiwan, I did my PhD here focusing on the mitochondrial pathology in an immune-mediated neurodegenerative model. It is quite fascinating to make great effort on staring at this tiny subcellular structure- imagine how important this organelle is and how they affect your life (#powerhouseisonfire hashtag years spent for my PhD). Coming from subtropics, I fell deeply in love with the winter here in Munich. The alps also made me an ''outdoor person''. No doubt that I hike and enjoy the beer on top of the mountain. Apart from outdoor activities, I travel, cook and bake (like a lot). And just fyi- if you would like to bring some sweets for me, I am a Krapfen lover!
Nils Treiber, MD student
I have been studying medicine at the LMU/TUM since 2018 and got to the Kerschensteiner lab initially through the `LMU-Forschungsmodul´ as an intern. Since then I have been introduced to great many techniques and surgeries while helping to research progressive MS models. After my preclinical phase I will be doing my MD on my current subject of progressive forms of MS. In my medical studies I was always fascinated by neurological disease, which is why I am excited to contribute to better understanding them. I originally come from a rather small town near the alps, which is why I really enjoy going hiking and skiing, knowing the secret tips. In the rest of my free time I also like working and troubleshooting (Pfusch) on my old car, playing dungeons and dragons with friends and riding my (slightly too fast) bike.
Adinda Wens, PhD student
Born and raised in Belgium, where I obtained my master's degree in Biomedical Sciences at the KU Leuven. After finding my passion for neuroscience during my Eramsus year at NTNU (Trondheim, Norway) and work as an imaging assistant at the Champalimaud Foundation (Lisbon, Portugal), I joined the Kerschensteiner lab in the summer of 2019 to pursue a PhD in Neuroimmunology. My project focuses on the molecular mechanisms of dendritic pathology within the spinal cord in a mouse model of MS. Whenever I am not in the lab, you can find me on a mountain, in the sea or on the couch with a cup of tea.
Niel Mehraein, MD student
After highschool, I went to engineering school for a year until I realized that human life is what really interests me. I started going to medical school in 2017 in Munich and joined the Lab in 2021 for my MD thesis. Our project aims to illuminate mechanisms of macrophage polarization in MS lesions. Outside the lab, I enjoy outdoor activities, reading, debating, logic riddles, language learning and cooking.
Prof. Dr. med. Martin Kerschensteiner
I started to get interested in neuroimmunology early on in my medical studies. Therefore I moved from Aachen to Munich to join Hartmut Wekerle`s department at the Max Planck Institute for Neurobiology, where I worked for 6 years in parallel to my medical studies. At the time it became clear that axonal injury was a critical determinant of disability in MS patients and I wanted to learn more about neuroscientific approaches to axonal pathology. Supported by a postdoctoral fellowship I therefore joined the lab of Martin Schwab at ETH Zurich and developed first targeted EAE models that allowed the induction of neuroinflammatory lesions in a defined axonal tract system (and subsequent analysis of axonal injury and compensation).
During this time I also visited a friend of mine (Thomas Misgeld), then a post doc in Jeff Lichtman`s lab at Washington university in St. Louis, and we managed to obtain first in vivo images of fluorescently labeled axons in the spinal cord. Based on this we were able to secure funding that allowed me to join Jeff`s lab first at Wash U and then at Harvard and enabled us to establish imaging strategies to study axonal pathology in real time. Support from the Emmy Noether program of the DFG then made it possible for me to start my own research group at the Institute of Clinical Neuroimmunology of the LMU Munich. Since then I have tried to apply dynamic imaging approaches to better understand the cellular and molecular interactions that determine the fate of neuroinflammatory lesion, first as a group leader, then as an associate professor and since 2013 as full professor.
As the director of the Institute of Clinical Neuroimmunology I hope to be able to continue the groundbreaking work of my mentors Reinhard Hohlfeld and Hartmut Wekerle and aim to provide an environment that stimulates scientific independence and creativity and hopefully contributes to meaningful improvements of our understanding of neuroinflammatory conditions and our means to diagnose, monitor and treat them.
Person
Name: Prof. Dr. med. Martin Kerschensteiner
Education and Academic Appointments
Since 2013 Full professor and Director of the Institute of Clinical Neuroimmunology, Medical Center of the LMU Munich
2008 – 2013 Associate Professor for Translational Neuroimmunology at the Institute of Clinical
2005 – 2008 Group leader funded by the Emmy Noether-Program of the German Research Foundation (DFG), Institute of Clinical Neuroimmunology, Medical Center oft he Ludwig-Maximilians-University Munich (LMU Munich)
2004 – 2005 Research Associate in the Department of Molecular and Cellular Biology (lab of Prof. J. Lichtman), Harvard University, Cambridge, USA
2003 – 2004 Research Associate in the Department of Anatomy and Neurobiology (lab of Prof. J. Lichtman), Washington University School of Medicine, St. Louis, USA
2001 – 2003 Post-doctoral fellow in the Department of Neuromorphology (director: Prof. M. Schwab), Brain Research Institute, University and ETH Zurich, Switzerland
1999 – 2001 Residency training in Neurology, University Hospital LMU Munich
2000 Medical degree (Dr. med.; summa cum laude)
1994 – 1999 MD thesis at the Department of Neuroimmunology (director: Prof. H. Wekerle), Max-Planck-Institute of Neurobiology, Martinsried
1992 – 1999 Medical Studies at the RWTH Aachen and the LMU Munich
Coordinating Functions
Since 2020 Deputy Speaker of the Collaborative Research Center SFB-TRR 274 "Checkpoints of CNS recovery"
Since 2020 Head of the Examination Board, Elite Master Program "Human Biology –Principles of Health and Disease", LMU Munich
Since 2017 Deputy Chair of the Biomedical Center of the LMU Munich
Since 2016 Board Member of the Clinical Compentence Network "Multiple Sclerosis"
Since 2016 Board Member of the Collaborative Research Center SFB-TRR 128 "Multiple Sclerosis –Initaiting/effector vs. regulatory mechanisms"
Since 2012 Board Member and Research Focus Coordinator of the Excellence Cluster "Munich Cluster for Systems Neurology (SyNergy)"
Awards and Honors
2020 Elected member of the German National Academy of Sciences (Leopoldina)
2012 ERC Consolidator Grant awarded by the European Research Council
2008 "Habilitationsförderpreis" of the LMU Munich
2005 Independent group leader award of the DFG Emmy-Noether Program
2004 1st Wyeth Award for MS Research presented by the German Neurological Society
1994 1st Junior Research Award of the German Multiple Sclerosis Society ("Sobek Price")
1994 – 1999 Scholar of the German National Scholarship Foundation ("Studienstiftung des deutschen Volkes e.V.")
2020 Kerschensteiner Group Picture
2017 Dumplings at the BMC
2017 Delphine PhD defense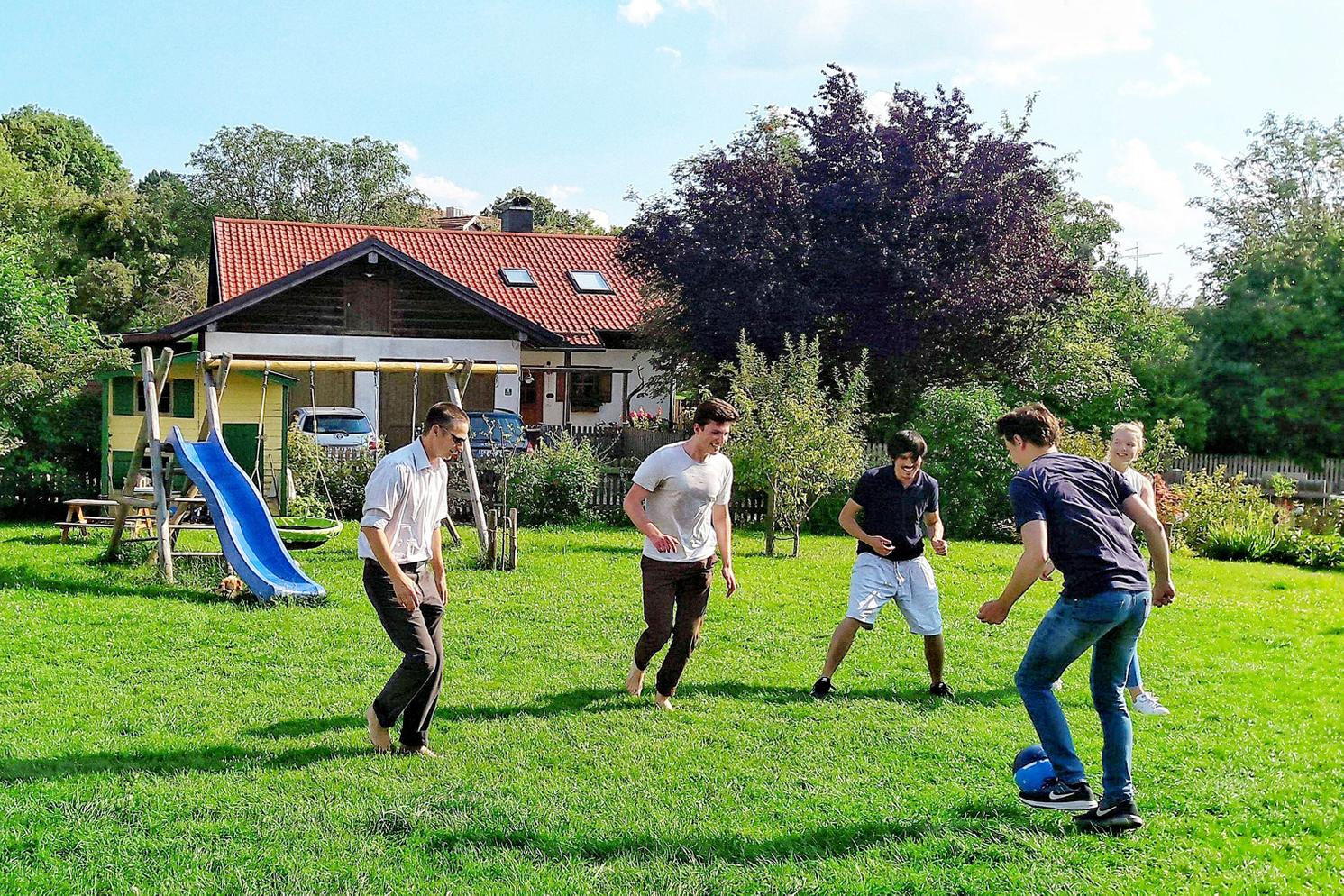 2017 Delphine PhD defense