Thaler Lab  – Immunobiology of autoimmune encephalitis
Autoantibodies against neuro-glial proteins have been identified in several forms of autoimmune encephalitis (AE). They can be directed against neuronal surface antigens or against intracellular proteins. Clinical presentations range from acute to subacute encephalopathy with neurological and psychiatric symptoms to acute life threatening conditions. Although much progress has been made in the treatment of these conditions, there are still many patients suffering from progressive cognitive decline, therapy-refractive seizures, progressive cerebellar ataxia and other symptoms. We therefore aim to understand mechanisms of dysregulated immune responses in the periphery as well as in the central nervous system in these patients in order to develop more effective and specific therapies.
To unravel mechanisms how immune cells and autoantibodies mediate neuronal damage in AE. We use a broad spectrum of methods like single cell sorting and sequencing, EBV immortalization of B cells, cell based assays, ELISA, immunohistochemistry, production of recombinant proteins, and a diverse panel of other immunological and molecular biological techniques. Our research is hypothesis driven and oriented on questions arising in clinical practice. We translate clinical findings to research projects by analyzing blood and spinal fluid samples.
Some of our current projects
B-cell repertoire in patients with GAD-antibody-associated neurological disorders.
Antibodies against glutamic acid decarboxylase (GAD) are found in a variety of neurological disorders like stiff-person syndrom, cerebellar ataxia, limbic encephalitis, and others. GAD is an intracellular protein located in the GABA-ergic synapse. How and if GAD-antibodies can mediate pathogenicity is still a matter of debate. We previously found that patients with GAD-antibody-associated disorders exhibit a strong dysregulation of peripheral B-cell responses with a high frequency of GAD-reactive B cells in the peripheral blood as well as GAD-antibody producing plasma cells in the bone marrow. Currently, we are analysing the B-cell repertoire in these patients on a single cell level trying to understand features of autoreactive cells and uncovering differences between autoreactive cells in the periphery and in the central nervous system.
Clinical characterization of patients with autoimmune encephalitis.
Many insights into symptom constellations, as well as laboratory and MRI findings in patients with AE have been gained in recent years. We contribute to broaden our understanding of these disorders by participating in the German Network for Research on Autoimmune Encephalitis (GENERATE), where patients are combined in a common registry and where we contribute to multicentric projects.
Linking neuroinflammation and neurodegeneration in autoimmune encephalitis.
Many patients with autoimmune encephalitis develop irreversible neurological deficits especially if immune-modulatory treatment is not initiated early after disease onset. However, in some subsets of autoimmune encephalitis even with prompt and aggressive immunotherapy progressive disease is observed. This suggests neurodegenerative mechanisms. We aspire to quantify those by imaging brain atrophy in MRI as well as analyzing neurodegenerative markers. Furthermore, we aim to unravel molecular mechanisms of antibody effects on neuronal cells.
Thaler FS, Zimmermann L, Kammermeier S, Strippel C, Ringelstein M, Kraft A, Sühs K-W, Wickel J, Geis C, Markewitz R, Urbanek C, Sommer C, Doppler K, Penner L, Lewerenz J, Rößling R, Finke C, Prüss H, Melzer N, Wandinger K-P, Leypoldt F, Kümpfel T. Rituximab treatment and long-term outcome of patients with autoimmune encephalitis: real-world evidence from the GENERATE registry. Neurol Neuroimmunol Neuroinflamm. 2021 Oct 1;8(6):e1088.
Thaler FS, Thaller AL, Schuh E, Biljecki M, Winklmeier S, Mahler CF, Gerhards R, Völk S, Schnorfeil F, Subklewe M, Hohlfeld R, Kümpfel T, Meinl E. Abundant GAD-reactive B cells in GAD-antibody-associated neurological disorders. Ann Neurol. 2019; 85(3):448-454.
Laurent SA, Hoffmann FS°, Kuhn PH°, Cheng Q, Chu Y, Schmidt-Supprian M, Hauck SM, Schuh E, Krumbholz M, Rübsamen H, Wanngren J, Khademi M, Olsson T, Alexander T, Hiepe F, Pfister HW, Weber F, Jenner D, Wekerle H, Hohlfeld R, Lichtenthaler SF, Meinl E. ° FSH and P-HK contributed equally to this work. γ-Secretase directly sheds the survival receptor BCMA from plasma cells. Nat Commun. 2015;6:7333.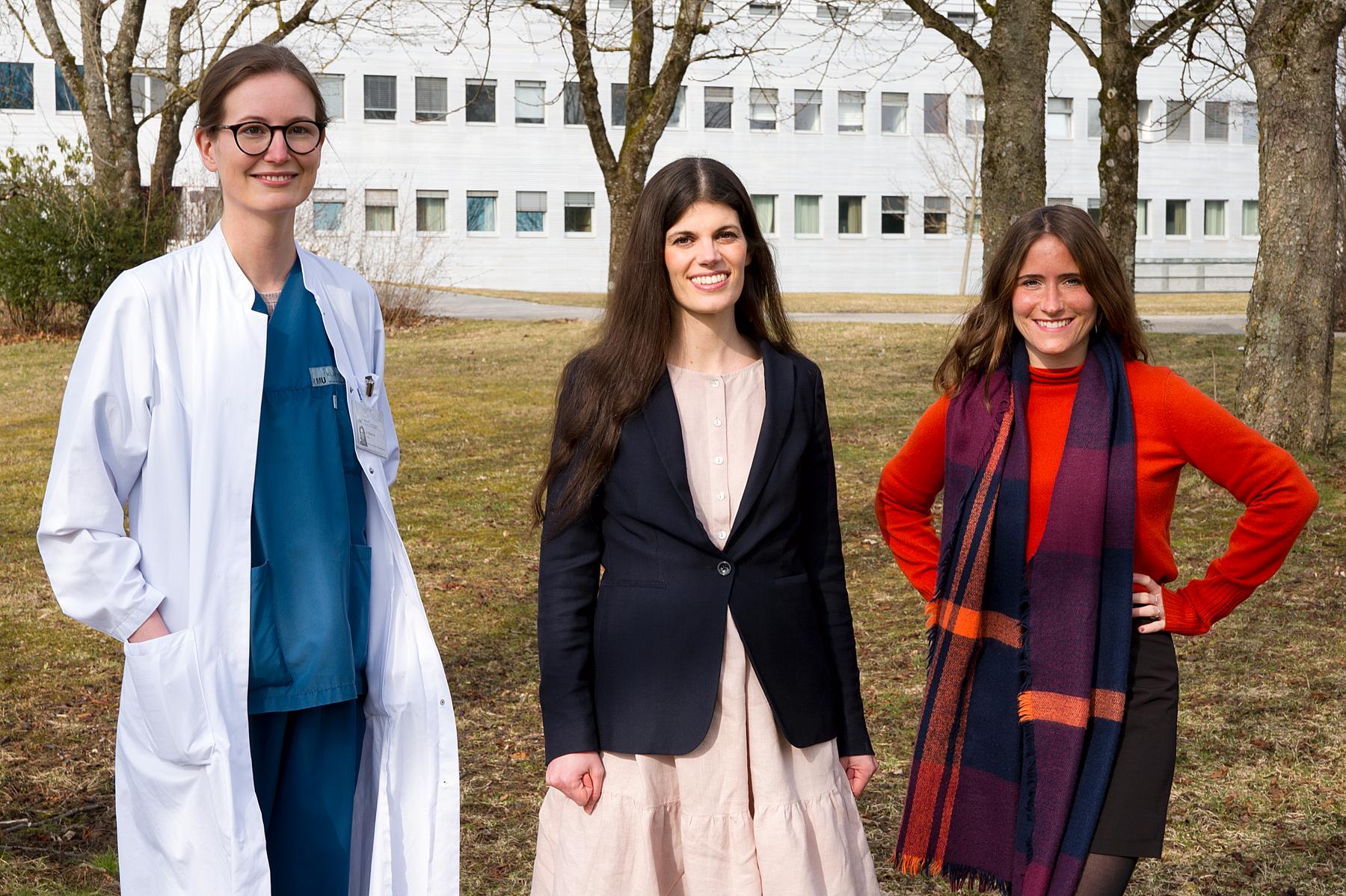 Franziska Thaler, principal investigator
Read more about the PI on the next tab
Michelle Biljecki, PhD Student
While pursuing my Bachelor´s degree in nutritional science at the University of Hohenheim (Stuttgart, Germany) I got fascinated by immunology. That's why I started studying the M.Sc. in molecular cell biology and immunology at the University of Tübingen. After my time in Tübingen I wanted to learn more about Neuroimmunology and applied for the PhD position at the Institute of Clinical Neuroimmunology in 2018 as well as for the PhD program of the Graduate School of Systemic Neuroscience (GSN). Since then, I´m investigating on B cell-mediated immune responses in auto-antibody-associated neurological disorders (SPS, LE). Besides working, I am passionate about climbing, table soccer, dancing, and food. Of course also about many other outdoor activities like hiking.
Katharina Eisenhut, MD and PhD Student
Since I started my residency at the Institute of Clinical Neuroimmunology in 01/2020 I have been involved in research revolving around the GENERATE registry (GErman NEtwork for Research on AuToimmune Encephalitis) with a particular focus on GAD-antibody-associated diseases. Further, I am interested in the immune response to SARS-CoV-2 through a neuroimmunological perspective. In 05/2021 I will join the Thaler lab as a PhD student.
Dr. med. Franziska Thaler
As a clinician scientist I am both involved in the care of neuroimmunological patients as well as in performing translational research projects. My scientific work focuses on the B-cell-response in neuroimmunological disorders especially in autoimmune encephalitis (AE). Here, I am particularly interested in neurological disorders associated with antibodies against glutamic acid decarboxylase (GAD). Our aim is to understand the immunopathogenesis of these disorders in order to develop more effective and more specific treatment strategies. Furthermore, I am part of the German Network for the Research on Autoimmune Encephalitis (GENERATE) which aims in combining patients with AE in a common registry and coordinating multicentric projects. Additionally, I am member of the Hertie Network of Excellence in Clinical Neuroscience connecting researchers involved in neuroscience throughout Germany. In 2021 I received an independent group leader award of the Clinician Scientist Program by the Munich Cluster for Systems Neurology.
Medical Education
06/2021 Medical specialist neurology
05/2011 Medical license (Approbation), approval as a physician by the Bavarian State Medical Association
2004 – 2011 Medical School, Ludwig-Maximilians-University, Munich; clinical fellowships at UCL London (Institute of Neurology), Jimma University, Ethiopia, and Universidad de Buenos Aires, Argentina
2007 - 2012 MD thesis, summa cum laude, Institute of Clinical Pharmacology, Ludwig-Maximilians-University, Munich
Professional Activity
08/2014 – today Assistant neurologist and research fellow at the Institute of Clinical Neuroimmunology and Department of Neurology, LMU Klinikum, Munich; 03/2020 – 02/2021: psychiatry rotation at Klinikum Fünfseenland Gauting
12/2012-07/2014 Post doctoral fellow at the Institute of Clinical Neuroimmunology in the research group of Prof. Edgar Meinl
12/2011-11/2012 Assistant neurologist at the Department of Neurology, LMU Klinikum, Munich
09/2011-11/2011 Post doctoral fellow at the Max-Planck-Institute for Neurobiology, Munich
Awards and Honors
2021 Independent group leader award - Clinician Scientist Program by the Munich Cluster for Systems Neurology (SyNergy)
Since 2019 Member of the Hertie Network of Excellence in Clinical Neuroscience
2015 Helmut Bauer Prize for research on Multiple Sclerosis
2008-2011 Scholarship of the Max Weber Programme, Elitenetzwerk Bavaria
2007-2008 Research scholarship of the German Research Foundation within the Graduate School "oligonucleotides in cell biology and therapy"
Memberships:
German Society of Neurology (DGN), German Network for Research on Autoimmune Encephalitis (GENERATE)